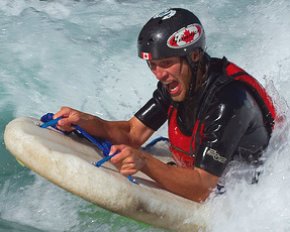 browse (1 / 3)
Victoria Falls has become a Mecca for tourists seeking an adrenaline packed getaway. One of the many thrilling activities you can take part in here at Victoria Falls is riverboarding.
Riverboarding at Victoria Falls is becoming more and more popular. Because it is not as extreme as many of the other attractions here it is a great choice for travelers who like their adrenaline in more moderate doses.
Riverboarding is equally popular with both men and women but is not recommended for children under the age of 15.
Because you are at face level with the rapids they seem very large and more intimidating that they do from above. Put on your helmet and get ready for the best ride of your life!
Riverboarding has been called "motocross on your belly" and this is certainly a great way to describe the exhilaration that riverboarding is known for.
Enjoy an adrenaline packed afternoon on the Zambezi River while you navigate rapids of varying difficulty levels. By the end of your day you might find you are a talented river boarder!
Riverboarding can be seen as a kind of extreme boogie boarding. You travel through the rapids on a modified boogie board and use your legs to steer between rocks.
Navigate through rapids on your belly. Experience rapids with colorful names like "Gnashing Jaws of Death" and "The Devils Toilet Bowl".
Despite the fearsome sounding rapids riverboarding is completely safe. You are accompanied by guides who both instruct and demonstrate how best to approach the rapids.
The scenery is awe inspiring and as you paddle and riverboard you can be sure that you are surrounded by some of the most beautiful settings in the world.
A day of riverboarding at Victoria Falls is a thoroughly exhausting but invigorating experience.