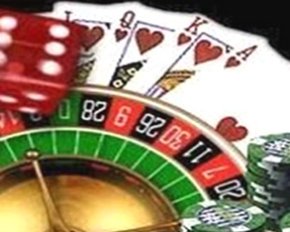 browse (1 / 3)
Gambling can be a great pastime for a number of reasons. Itís exhilarating, fun and entertaining too. A casino evening is a great way to spend an evening at Victoria Falls.
Victoria Falls is a thrilling place. Itís always busy and visitors are faced with many entertainment options while here. There are many kinds of safaris, whitewater rafting trips, bungi jumping and helicopter rides to choose from in the daytime.
But after spending the day soaking up the sunshine and exhausting yourself during the day, a casino is a great way to let your hair down and relax at night. Order a drink and spend some time in good company at one of the great casinos at Victoria Falls.
Casinos at Victoria Falls are fully equipped for international visitors. Roulette, Black Jack and Slot machines are standard. You can also try your hand at Zambezi Poker or Punto Banco if you are looking for a more exotic experience.
An evening spent gambling can be really relaxing or very exciting depending on how big the stakes are. Itís all up to you & thanks to the favorable exchange rate gambling here can turn into a very profitable evening for you. Who knows you might just win enough to finance an extra extravagance on your trip.
Victoria Falls has a few casinos worth visiting. Great casinoís can be found on the Zimbabwian nd Zambian side of the Falls.
If you enjoy gambling be sure to stop in at some of the great casino hotels at Victoria Falls.