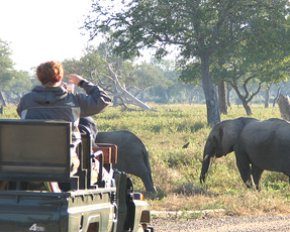 browse (1 / 4)
Game drives are one of the most popular ways to experience the wildlife surrounding Victoria Falls in Zimbabwe and Zambia. Victoria falls is located between two national parks, Mosi-oa-Tunya National Park in Zambia and Victoria Falls National Park in Zimbabwe. Cruises and excursions down the Zambezi river is a awesome way to view game. There is large populations of elephants, buffalo, giraffes and hippos.
Long leisurely game drives are really an awesome way to take in the wild life here at Victoria Falls. From the comfort of an open vehicle you can explore the wild area around the Victoria Falls. Take your time absorbing the nature around you.
Choose between a guided drive and a self drive safari. Each has their own benefits. With a guided safari you are guaranteed to learn lots and also have access to some daily events which are hard to find yourself. Self drives give you the power to choose your own pace.
Unlike other game viewing experiences you are almost guaranteed an up close and personal view of the wild animals. Watch elephants, crocodiles, hippos or lions in their natural habitat. Feeding times are often the best time to go as you might get to watch a lion kill (which is a thrilling experience!).
Victoria Falls has a wealth of photographic opportunities. For the avid photographer a game drive is a cheaper way to get some really great photo's to take home with you. Game drives offer a unique experience in that you are very close to the animals; so taking photo's is easy.
Game drives are very safe too. You have the reassurance of knowing that you are in good hands while driving through the wilderness. Expert guides give detailed information that makes any game drive a wonderful learning experience. Children love game drives because they have the opportunity to see such rare creatures' right in front of them.
Make sure you leave some time for a game drive while visiting Victoria Falls. You will be glad you did!