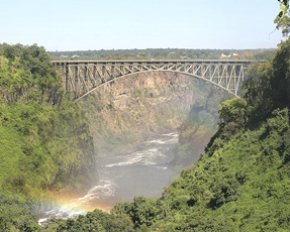 browse (1 / 3)
The Victoria Falls Bridge is always part of the visual splendor that surrounds Victoria Falls. It has become part of the general image that we associate with the magnificent Vic Falls.
This is why is not at all surprising that bridge tours are a popular attraction here.
The bridge here at Victoria Falls has great historical value. The Victoria Falls Bridge was designed by Ralph Freeman who is the man responsible for designing the famous Sydney Harbor Bridge. Completed in 1905 this bridge is an impressive architectural accomplishment by any standard.
Today more and more visitors take this scenic bridge tour to see and learn more about this incredible bridge. The American Society of Civil Engineering has praised the Victoria Falls Bridge as a bridge which "embodies the best abilities of the engineer to enhance the beauty of nature".
Supported by a massive parabolic arch this bridge is truly a majestic sight. The Victoria Falls Bridge towers 40 stories above the river below. The bridge serves as the crossing point between Zambia and Zimbabwe and is one of only a handful of bridges built over the powerful Zambezi.
A typical bridge tour involves walking on and around this spectacular bridge. Guided tours offer visitors to Victoria Falls the chance to experience this bridge up close. You will also learn a great deal about the bridge and its history as well as experience this visually dramatic landmark up close.
Bridge tours at Victoria Falls are suitable for the entire family unless you are deathly afraid of heights. Generally the bridge tours are well attended and thoroughly enjoyed by all.
Whichever way you plan on spending your time at Victoria Falls a bridge tour is a fantastic way to spend a few hours here.