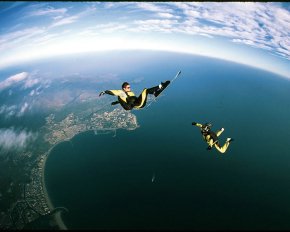 browse (1 / 5)
Do you want a rush? If you're a skydiver, you know about adrenaline addiction and the attraction of gravity, so you won't want to miss the chance for a quick jump while you're on holiday.
Cape Town has several skydiving clubs. Skydive Cape Town ,Skydiving Adventures and Skydive Ceres.
And if you've never skydived, consider doing your first jump in Cape Town. With our favorable exchange rate, you'll find it a lot cheaper than in other countries. You could choose between a standard static line jump or a tandem jump, where you are tied to an instructor who makes all the decisions for you.
If you think you might get serious about skydiving you could do an accelerated free-fall course while you're in South Africa and save a bit of money, as it is the most expensive part of a skydiving career.
Then there's the scenery. Even if it's your first jump and you think you'll have your eyes closed the whole time, don't worry, you will see the view. Cape Town has one of the world's most scenic Drop Zones. You will see Table Mountain, Robben Island and the whole Cape Peninsula from altitude. A must for adrenaline junkies.