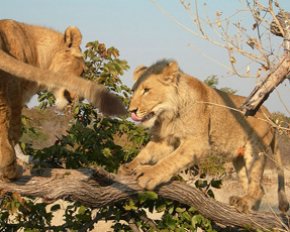 browse (1 / 3)
The area surrounding Victoria Falls is well known for the abundant wildlife. The thick jungle which surrounds the Vic Falls is home to many different and spectacular animals, lions are abundant here.
Victoria Falls is a world heritage site which means that the area is highly protected, as are the animals which call this magnificent area their home.
A new trend towards viewing game on foot means that many companies are offering walks with nature.
Adventurous types will enjoy the experience but unlike many of the other adventures here at Victoria Falls – walking with lions is a fairly refined way to experience the environment and surrounds here.
A lion walk means walking through the landscape alongside the lions. You get to view one of nature's most amazing creatures from a unique vantage point, as part of the pack!
Walking through nature and interacting with wild animals is an exceptional experience. If you are lucky you might even see a lion kill from up close!
Lion walks also give visitors the opportunity to watch lions in their natural habitat. Knowledgeable guides give interesting information and you can be sure to learn lots about lions and all the other animals you encounter along your lion walk.
Photography enthusiasts will delight in a lion walk as there are many picture perfect moments worth capturing. Many hours of film have been spent on what can only be described as an amazing experience.
Not only will you be able to capture great photos of lions, but also the many other animals which call the stunning areas around Victoria Falls their home.
If you are visiting Victoria Falls make sure to take a lion walk. It's a worthwhile experience for anyone!
Imagine being able to say you have walked with lions… Now stop imagining and come do it!