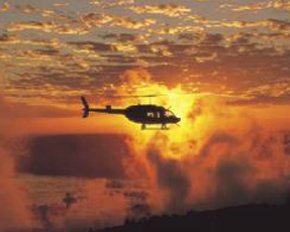 browse (1 / 3)
So many people have written on the wondrous beauty that surrounds Victoria Falls for good reason!
For many travelers a helicopter ride over the Victoria Falls rates as one of the best experiences in their lives. The view is indescribable. So vast and majestic that it defies belief.
Any helicopter ride an exhilarating experience. But here is made even more amazing by the view over the falls. Known as the "Flight of Angels" it is easy to understand why a helicopter ride over the Victoria Falls is named after a heavenly experience. You are so high above this amazing view. Helicopters can't fly too low because of the sensitive wildlife but they do get pretty close and from this vantage point you get an awesome view of the Victoria Falls.
A sunrise helicopter ride is a mind blowing experience. Watch the vast landscape light up as the animals come to life. Sunset is an equally good time to enjoy the miracle of nature. This site is particularly special due to the large concentration of hippos in the area surrounding Victoria Falls.
When it comes to viewing the actual falls a helicopter is undoubtedly the best vantage point. Because helicopters have more power than micro lights or open planes – they are able to get much closer to the falls. A helicopter ride over Victoria Falls is a breathtaking experience. You have the pleasure of knowing that you are seeing the falls in a way which not many people get to.
Helicopter rides are an affordable treat here at Victoria Falls. If you are traveling on a budget you may be tempted to dismiss a helicopter ride an unfordable – but here on the Zimbabwian and Zambian side of the Falls you will be surprised to learn a helicopter ride is very affordable.
Children and adults will be delighted and amazed as you glide above on of the world's greatest natural wonders.
One of the most stunning views you can get of the Victoria Falls is from the air. Make sure to leave enough time to enjoy this once in a lifetime adventure!