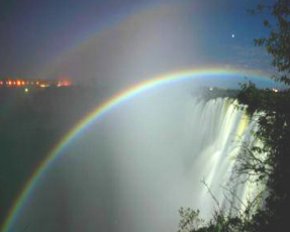 browse (1 / 3)
Victoria Falls is a spectacular sight. By day or by night the sounds of the immense volume of water cascading down a gorge that has been shaped by millions of years of water flowing though it.
Seeing a rainbow against the backdrop of the African night sky is an exceptional experience.
Victoria Falls is one of a limited number of sites around the world which are known for moonbow occurrence. There are only four other sites in the world where you are guaranteed to see a lunar rainbow at full moon.
Lunar rainbows (also known as moonbows) are rainbows that occur at night as a result of the light from the moon. Whereas a normal rainbow is the product of sunlight reflecting through water a lunar rainbow is the result of moonlight reflecting through water.
In order to see a lunar rainbow normally you need a clear night, a full moon and rain in the distance. Here at Victoria Falls all you need is a full moon to see one of nature's most elusive and lovely sights. Victoria Falls has a constant rainbow during the day. The vast volume of mist from the immense falls creates enough mist for a lunar rainbow to be clearly visible at full moon as well .
This is only visible at full moon so make sure to book your trip during this time!
Children and adults love to marvel at this stunning sight, not to mention the effect it has on couples. A rainbow generated by moonlight, what could be more romantic!
At full moon the Victoria Falls park stays open late to allow visitors to view this awesome phenomenon.
While you are visiting Victoria Falls, check to see when the moon is full, treat your loved one to the most romantic evening of their life. And best of all its free!