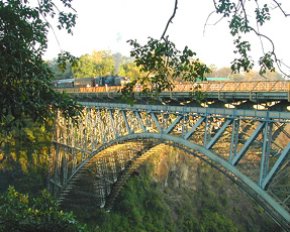 browse (1 / 3)
Riding through one of the most beautiful settings in the world on a train has to be one of lifeís ultimate adventures.
If you are heading to Victoria Falls one of the best ways to experience the grandeur of Vic Falls and surroundings is to take the steam train safari. The railway lines passing through Zambia are some of the most picturesque in the world.
By taking a steam rail safari through the Victoria Falls region you get to see some of the best views possible of the Victoria Falls. Because the train line runs over the bridge you get the unique opportunity to capture a photo of the Falls from head on as they cross the steep Gorge.
Cruise along the length of the falls in comfort while sipping on a nice frosty beer. Or recline in your spacious cabin before a lunch buffet is served.
You can choose between luxurious steam rail safariís and more standard rides. There is also the option to take a shorter ride from Livingstone. But because of favorable exchange rates itís a good deal for any foreign tourist either way. You donít need to break your budget to experience this adventure.
And when they say luxury they mean luxury if the highest standards! Rovos Rail and the Shongololo express are just some of the grand railway coaches that you can take here at Victoria Falls.
A steam rail safari is a wonderful way to spend a holiday at Victoria Falls. It is completely safe, reasonably priced and one of the most gorgeous ways to see the falls too!
See lions, elephants and the Victoria Falls from the comfort of an air conditioned and luxurious steam train window. What could be better?
Steam train safaris are a wonderful way to see and explore the Victoria Falls!