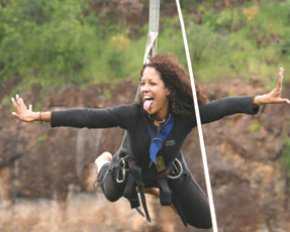 browse (1 / 3)
Victoria Falls Zambia is home to the only cable gorge swing in the world. Swinging on the Bakota Gorge Swing is widely believed to be a once in a lifetime adventure. A day of high wire activities will get plenty of feel good endorphins pumping through your body.
Adventure tourism is fast becoming a major draw card at Victoria Falls. Many tourists flock from all corners of the world to come and experience the adventure and excitement that the many activities here offer.
High wire is not for the faint hearted! Like bungee jumping high wire leaves you with a sense of mastery and power. The sensation of free falling is accompanied only by sheer excitement as you swing like Tarzan between cliff faces.
And high wire is completely safe. You are suspended from a cable by a full body harness as you slide over the immense gorge. High wire is a fix for adrenaline junkies who aren't quite willing to commit to bungee jumping but still want a mind boggling experience.
Because high wire doesn't necessarily involve free fall (which is where the adrenaline 'fix' comes from) it is a gentler option for those who aren't prepared to fling themselves off a bridge or cliff face in order to experience an adrenaline rush here at Victoria Falls.
There are different categories of activities which fall under the concept of high wire. Each option requires varying levels of commitment… Some of the less hardcore options include zip line slides, foefie slides, abseiling, or the flying fox.
Various packages exist for adrenaline junkies who want to taste more than one of these exhilarating high wire activities here at Victoria Falls.
Come experience the high wire activities yourself and treat yourself and your loved ones to a day of good clean fun at Victoria Falls.